Wednesday Late: Poetry & Performance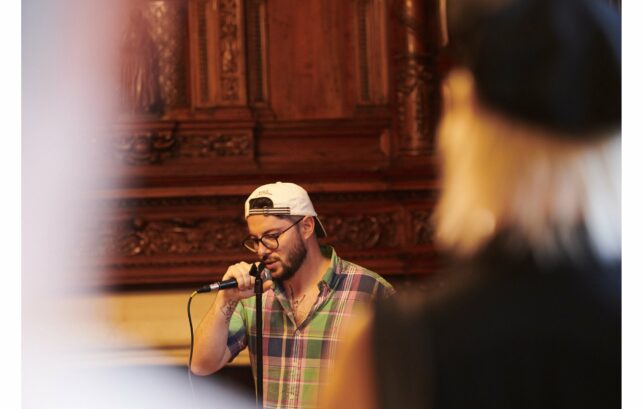 Join us for a live poetry performance featuring INSIDE artist John Costi, bill daggs, Sav Goldberg, Liv Wynter, and Aicha Therese and grab a drink at the bar.
John Costi was born in London in 1987 of Cypriot and Irish heritage, and works in an atypical art practice. After a spiritual awakening during a six-year prison sentence, Costi sought to make sense of the world around him through art. His work, improvised and often informed by chance, inhabits the social sphere. Dealing in the immediate and in metaphors, Costi aims to turn the passive headscratcher into an active participant, and to explode hierarchies of the experience of art. Costi graduated from Central St Martins MA Fine Art in 2022, and is currently the Post Graduate Artist in Residence at The South London Gallery. Recent exhibitions include: Tiger Milk, Krabbesholm Højskole, Denmark; Trash Money, Light Eye Mind, London; and performances at V22, London and Tate Modern.
Liv Wynter is a grassroots organiser and performer bouncing between SE15 and N15. They create live art, sometimes alone but more often with bands and collectives. Their sellout night, How To Catch A Pig, is a celebration of creatives who also organise against the state with a focus of queer and trans performers. Their band press.release, and their DJ/MC double act Dance Mums are residents. They spent 2022 touring stadiums with Queer House Party, playing Secret Garden Party, Boomtown, Wilderness, Latitude and Sziget, and being banned from the Southbank Centre for decapitating the queen.
bill daggs (b. London) is an artist / archivist / musiker, working across disciplines from his London studio. His rhythmic investigations involve, though are not limited to, painting, sculpture, installation, performance, moving image, text and sonic composition.
Aicha Thérése also known as ATL is a Spoken Word Artist, Singer-Songwriter from South East London. Aicha is the founder of 'ATL's Word on the Street' a popular poetry and music platform showcasing emerging talent and empowering young creatives. Since beginning her artistic journey in 2019 she has worked as an event curator and facilitator for many youth led organisations including Poetic Unity and Black Cultural Archives.
Sav Goldberg I've heard enough about American history
For information on planning your visit and accessibility at Two Temple Place please see our Visit Us page.
This event has been programmed as part of a series of events to accompany the exhibition INSIDE: A Two Temple Place and Thorp Stavri Exhibition. For more public events, please click here.
*Please note that we are a small organisation, if you want to cancel your ticket within 1 week of the event, we can't offer a refund but will try to transfer your ticket to a similar event in the future. If cancelling 48 hours before the event, we are unable to offer a refund or transfer your ticket. If you request a refund at any time, you will be charged £1.37 by Eventbrite.