Family Workshop: Music with The Orang Collectif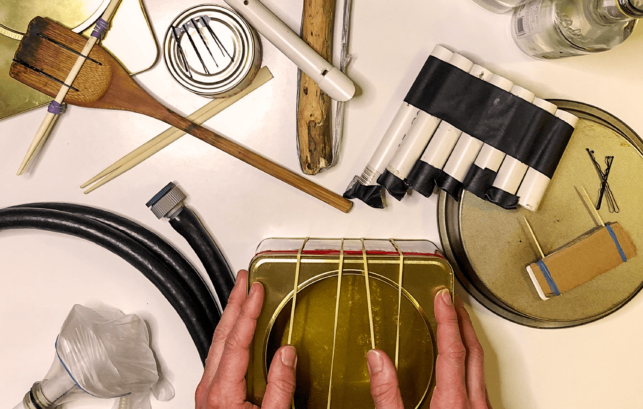 Ever wondered where sound comes from? Want some new musical instruments? Gather the family and go through your recycling bin and cupboards. LET'S CREATE!
Join The Orang Collectif on a fun adventure learning about sound. Discover where sound comes from and how to make a musical instrument using recycled items found around your house.
The workshop focuses on the use of recycled and repurposed items, providing participants with tools to create their own musical instruments.
Suitable for families with children 4 – 12yrs (Children must be accompanied by adults)
About The Orang Collectif:
Started by Natalie Wong and Arthur Astier, The Orang Collectif is a cross-disciplinary and multicultural collective, who tells stories and explores different forms of art through the languages of movement, music, sound, lights and text.
The Orang Collectif celebrates diverse cultures, languages and theatrical traditions reflecting upon our modern society. Their method of working is based on workshops led by one or more of the collaborators subjective to the goals of the investigation. The material generated from the workshops are then moulded and refined to form a performance. They enjoy working with individuals of varying disciplines and expertise as there is always a new perspective to be challenged by and to learn from.
£5 plus £1 per additional child.
If you have any questions please email info@twotempleplace.org or see the Visit Us page of our website.
This event has been programmed as part of a series of events to accompany the exhibition State-less 無國界:A Two Temple Place & Kakilang Exhibition. For more public events, please click here.