Black Girl Knit Club Residency: A Collaborative Response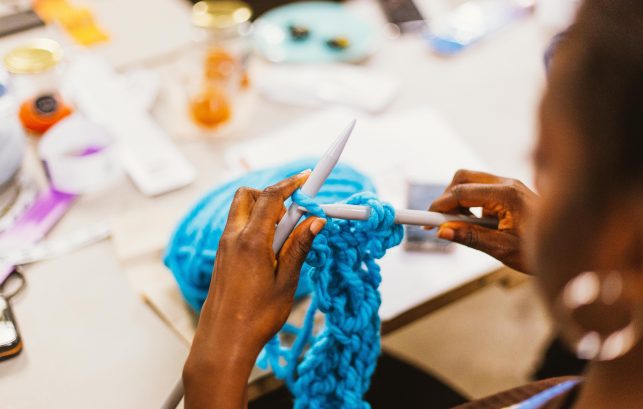 Drawing on the themes of colonialism and cultural hybridity present in Yinka Shonibare's 'The Wanderer', Black Girl Knit Club invite you be part of their workshops to create a collaborative response piece. These repeated sessions (Wednesday 12th, 26th February and 11th, 25th March) offer an opportunity to learn about textile design from a West African Culture, hone a new skill through basic knitting and engage with the exhibition by viewing Shonibare's work and understanding its relation to wax print cloth and wider cultural references.
Black Girl Knit Club
Black Girl Knit Club (BGKC) is a knitwear collective based in East London started by friends Sicgmone a Knitwear designer and Textile Lecturer at UAL and Vea Creative director, stylist & founder of Brantuo Studio Vintage.
BGKC started in January 2019 after the realisation that there wasn't a safe space for women who looked like us in the craft industry. We were further motivated after following the recent social media hashtag #diversknitty, where knitwear designers and makers were calling for more diversity within the craft community. Thus we wanted to change that narrative for us so we created: Black Girl Knit Club. Our aim is to create a safe and inclusive space for black women to gather, unite, and inspire each other through the confidence of encouraging hand knitting skills and create a learning platform which highlights the importance of creativity to our wider community.
This event has been programmed as part of a series to accompany the exhibition UNBOUND: Visionary Women Collecting Textiles. For more public events, please click here.
Accessibility
There is a short flight of stone steps leading up to our entrance. Wheelchair access to the building can be gained via a stair climber. Visitors will need to transfer from their wheelchair into the stair climber wheelchair. Please note that the stair climber cannot be used in wet or icy weather conditions.
Please call us on 0207 836 3715 before visiting, to discuss your requirements.
Once inside the building, a lift provides access to all floors, and we have an adapted toilet on the ground floor.
Assistance animals are welcome, and we are happy to provide water on request.
For blue badge parking please see: Blue Badge Parking